WireCrafters Pallet Rack Doors | Pallet Rack Enclosure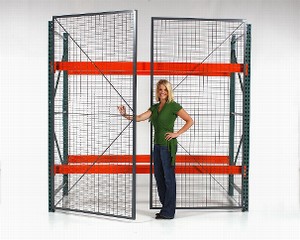 WireCrafters' panels and doors are made of 10 gauge wire welded in a 2" x 2" square mesh. The wire mesh is then welded into a 13 gauge rolled formed angle frame. Pallet rack enclosure end panels are attached to the pallet rack end with a flush mount angle clip. To separate multiple bays, end panels are manufactured with a flat frame which allows the panels to be attached to the pallet rack end with self-tapping screws. Back panels are also attached directly to the rack with angle clips. WireCrafters offers three different mounting clips that allow an offset which ranges from flush mount (or no offset) up to 6" of offset. These mounting clips allow your pallet load to overhang but still maintain inventory security and safety for workers. Offset clips come in lengths up to 12" long which allows you to mount panels between back-to-back rows of pallet racks, providing a strong and secure wall to two rows of pallet racks simultaneously. WireCrafters manufactures pallet rack enclosing panels the same width as your pallet rack beam which gives your facility optimal security for your products and inventory stored on existing pallet racks.


Secure Inventory with Pallet Rack Enclosure Doors
In order to convert existing pallet racks into a secure storage enclosure, doors are required for the front of the pallet rack. Any bay of an existing pallet rack can be turned into a secure storage area. WireCrafters stocks double hinge doors that are 8'-0" wide in 8'-0" and 10'-0" heights. These double-hinge doors bolt directly to the pallet rack uprights with simple hand tools. The pallet rack enclosure doors come equipped with a padlock lug. WireCrafters can manufacture double-hinge doors up to 12'-0" wide x 20'-0" high. On oversized doors, we provide our own door posts that are attached directly to the rack uprights in the field. Sliding doors may be the most popular type of pallet rack enclosure door. Sliding doors also mount directly to the pallet rack uprights, and are sized from 8'-0" x 8'-0" up to 12'-0" x 20'-0" high. When multiple bays of pallet racks are side by side, these sliding doors mount on a double track system and allow one door to slide out of the way in front of the other door. Unlike double hinge doors, sliding doors use minimal aisle space and are ideal for areas with smaller aisle clearance.


WireCrafters Pallet Rack Enclosure.pdf