Rousseau 36 inch wide R-Series Modular Drawer Cart
Rousseau Metal 36" wide R-Series modular drawer cabinet cart with its industrial quality construction, is definitely one of the strongest and most durable on the market. Rousseau 36" wide cabinet provides a capacity of 400 pounds per drawer and is one of the safest on the market. It is designed for intensive use in hostile work environments. 6" polyurethane tread does not mark floors. Superior industrial quality casters that installs directly under cabinet. Capacity: 900 pounds per caster. Cabinets include an integrated lock-in mechanism allows user to open the drawer and the roll-out shelf with one hand only. Stops drawer and roll-out shelf from opening on its own. Activated by tilting the handle up. Cabinets come with standard lock (on doors also).
Design your Modular Drawer Cabinet.
Easy to Configure!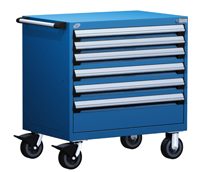 Get Started
Click on Model Number for More Information and Available Discounts
| | | | | | |
| --- | --- | --- | --- | --- | --- |
| Model Number | Width x Depth x Height | Drawers | Partitions | Price | Buy Now |
| | | | | $951.00 | |
| | | | | $996.00 | |
| | | | | $1128.00 | |
| | | | | $1233.00 | |
| | | | | $1347.00 | |
| | | | | $1592.00 | |
| | | (1) 3" (1) 4" (1) 5" (1) 6" | | $1242.00 | |
| | | (1) 3" (1) 4" (1) 5" (1) 6" | | $1434.00 | |
| | | | | $1243.00 | |
| | | | | $1409.00 | |
| | | | | $1358.00 | |
| | | | | $1640.00 | |
| | | (1) Shelf (1) Adj. Shelf (1) Door | | $890.00 | |
| | | (1) Roll-Out Shelf (1) Door | | $980.00 | |
| | | (1) 3" (3) 6" (1) Roll-Out Shelf | | $1404.00 | |
| | | | | $1133.00 | |
| | | | | $1242.00 | |
| | | | | $1014.00 | |
| | | | | $1098.00 | |
| | | (2) 3" (2) 4" (2) 6" (1) 8" | | $1521.00 | |
| | | (2) 3" (2) 4" (2) 6" (1) 8" | | $1774.00 | |
| | | | | $1524.00 | |
| | | | | $1822.00 | |
| | | | | $1387.00 | |
| | | | | $1194.00 | |
| | | | | $1323.00 | |
| | | | | $1427.00 | |
| | | | | $1710.00 | |
| | | (1) 3" (1) 4" (1) 5" (1) 6" (1) 8" | | $1539.00 | |
| | | (1) 3" (1) 4" (1) 5" (1) 6" (1) 8" | | $1314.00 | |
| | | | | $1315.00 | |
| | | | | $1513.00 | |
| | | | | $1427.00 | |
| | | | | $1761.00 | |
| | | (1) Roll-Out Shelf (1) Door | | $1019.00 | |
| | | (1) Roll-Out Shelf (1) Door | | $923.00 | |
| | | (1) 3" (3) 6" (1) Roll-Out Shelf | | $1356.00 | |
| | | (1) 3" (3) 6" (1) Roll-Out Shelf | | $1499.00 | |
| | | | | $1334.00 | |
| | | | | $1072.00 | |
| | | | | $1199.00 | |
| | | | | $1180.00 | |
| | | (2) 3" (2) 4" (2) 6" (1) 8" | | $1611.00 | |
| | | (2) 3" (2) 4" (2) 6" (1) 8" | | $1909.00 | |
| | | | | $1613.00 | |
| | | | | $1960.00 | |
| | | | | $1452.00 | |
| | | | | $1647.00 | |