Strong Hold Countertop Drawer Storage Cabinet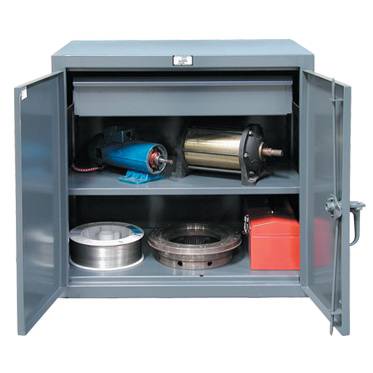 Strong Hold Countertop Storage Cabinet with Drawer are ideal for tool cribs, assembly areas, mailrooms and other areas where overhead space is not available. Countertops make great service counters. These space saving units are sold without legs. Manufactured from 12 gauge steel, these cabinets have all the features to last a lifetime. The all-welded design is built to be a true survivor in today's rough and rugged manufacturing environment. The features of these cabinets include adjustable 14 gauge shelf and can be adjusted in 2 inch increments. There is 1 shelf and 1 drawer in these cabinets. The shelf are 21-1/2 inches deep. More shelves can be added for versatility. The drawer is 6 inches high and 20 inches deep. The 3-point locking device includes a hasp built into the handle for use with a padlock. These heavy duty 12 gauge steel cabinets provide protection for valuable tools and machine parts.
These cabinets are built for rough and tough industrial use.
Click on Model Number for More Information and Available Discounts
| | | | | | |
| --- | --- | --- | --- | --- | --- |
| Model Number | Size: W x D x H | Shelves | Shelf Capacity | Price | Buy Now |
| | 24" wide x 20" deep x 36" high | | | $813.72 | |
| | 36" wide x 20" deep x 36" high | | | $970.75 | |
| | 36" wide x 20" deep x 42" high | | | $1019.70 | |
| | 36" wide x 24" deep x 36" high | | | $1067.63 | |
| | 36" wide x 24" deep x 42" high | | | $1130.85 | |
| | 48" wide x 24" deep x 36" high | | | $1251.17 | |
| | 48" wide x 24" deep x 42" high | | | $1311.33 | |