Rousseau Metal CNC Tool Drawer Shelving Unit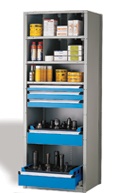 Rousseau Metal CNC Tool Drawer Shelving Unit have been designed to ensure maximum protection of your CNC tools during storage. Whether for storing specialized materials for metal working, such as drill bits, collets, punches, tool holders or standard tools such as pliers, files, wrenches or various fittings and sockets. Rousseau range of storage possibilities ensures ideal protection against corrosion and premature aging of your tools caused by inadequate storage. The tool rack offers improved support and increased stability by preventing tools from falling out, even in an inclined position. The tool rack surface is made of sturdy PVC and protects tools against blows, corrosion and spattering molten metal while favoring coolant drainage and limiting contact surfaces with the tool. Made of sturdy PVC, racks protect tools against shocks and corrosion.
The 75" H shelving unit includes 2 shelf levels and 2 dividers; the 87" unit includes 3 shelf levels and 4 dividers.
Tool identification zone on rack allows for quick retrieval of tools.
The racks are inclined 20° for easy access to tools.
Avoids accidental contact between tools.
Prevents corrosion and premature wear due to inappropriate storage.
Minimizes your tool acquisition and reconditioning costs.
Photo is a product image only as final product look may change depending on color and accessories selected.
Click on Model Number for More Information
| | | | | | |
| --- | --- | --- | --- | --- | --- |
| Model Number | Size: W x D x H | Tool Type | Tool Quantity | Price | Buy Now |
| | | | | $1854.50 | |
| | | | | $2043.98 | |
| | | | | $2135.01 | |
| | | | | $2203.81 | |
| | | | | $1945.54 | |
| | | | | $2015.40 | |
| | | | | $2086.32 | |
| | | | | $2155.12 | |
| | | | | $1854.50 | |
| | | | | $2048.21 | |
| | | | | $2163.59 | |
| | | | | $2232.39 | |
| | | | | $1978.35 | |
| | | | | $2048.21 | |
| | | | | $2110.66 | |
| | | | | $2179.47 | |
| | | | | $1854.50 | |
| | | | | $2048.21 | |
| | | | | $2150.89 | |
| | | | | $2220.75 | |
| | | | | $1854.50 | |
| | | | | $2048.21 | |
| | | | | $2179.47 | |