Treston Concept Workbench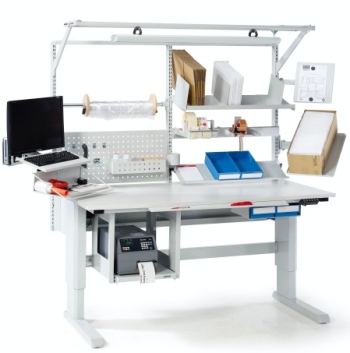 Treston Concept Workbench is a fully customizable work table that can be set up for any type of industrial work. From the fast-paced packing industry to delicate electronics assembly, our fully-modular Concept bench can be set up for your employee's exact needs. Our Concept bench emphasizes ergonomics with electric motor-driven height adjustability, modular desk cabinets and drawers that can be set within the ideal reach zone, and other accessories designed to promote sustainable efficiency. Each component of our Concept workbench is also available with electrostatic discharge (ESD) protection for facilities with electrostatic discharge protected work areas (EPAs).
The Concept workbench model has the widest range of accessories on the market. Suitable to any environment, application and industry, including electronics manufacturing, ecommerce, and medical equipment suppliers (cleanroom suitability ISO class 7). Can be accessorized for use in packing, fulfillment, assembly, testing or quality assurance functions.
♦ An ergonomic, modular, and adaptable industrial workbench
♦ Various sizes and combinations
♦ Height adjustment electrically (electric motor height adjustment), or with a hand crank or an Allen key
♦ A wide range of accessories and add-ons – easy to customize
♦ Very stable, with a steel frame, maximum load capacity 1100lbs
♦ The frame, table top, and accessories available with ESD protection.