Strong Hold Plus CAB000008 Double Shift Storage Cabinet
MFG's Part Number: CAB000008
List Price: $2,360.76

Our Price:

$1732.01

You Save: $628.75 (26.63 %)

Larger Quantities: Use Quote Form

Availability:

Ships in 5 working days
Strong Hold Plus CAB000008 Double Shift Storage Cabinet
Strong Hold Plus CAB000008 Double Shift Storage Cabinet provide 2 separate compartments. 2 people can easily work out of 1 cabinet. Lock up 1 side while using the other. Strong-Hold Cabinets are shipped completely assembled and ready to use. There is no lost time for shelf installation or setup.
DURABILITY NEVER LOOKED OR FUNCTIONED SO WELL
The same tank-like Strong Hold® you've always loved, yet different. Keep materials and tools organized for greater efficiency like never before. Plus by Strong Hold is the heavy-duty, have it your way cabinet that offers a truly ready-to-use solution from factory to factory.
♦ SHIPS IN 5-DAYS
♦ Size: 60" wide x 24" deep x 72" high, Overall all height: 78"
♦ 8 shelves
♦ 825-pound capacity per shelf.
♦ Standard color: Black or choose to upgrade for free with one of our 6 other color options
♦ Cabinet weight: 740 pounds.
♦ Heavy-duty 12-gauge construction with one-piece, wrap around body
♦ 3-point locking mechanism operated by a cast bronze handle with padlock clasp
♦ 3 fully welded, 2-knuckle hinges per door for maximum strength and durability


SOFT TOUCHES KEEP YOU ORGANIZED
Strong Hold® Plus™ gives you the ability to free up space, have a place for everything, and keep everything in its place. Stop looking for things you know you have but can't find. Take control of your workspace. Keep track of tools, supplies, and inventory. All Plus cabinet models come standard with features that will change the way you work.
♦ Shelf dividers and shelf labels keep your space neat and tidy
♦ Exterior cabinet label helps you and others to identify the purpose of the cabinet
♦ Interior dry-erase board keeps you and the contents of your cabinet organized. Jot down ideas, reminders or keep track of inventory.
Strong Hold builds strong, dependable industrial storage solutions using heavy-duty, 12 gauge steel. Cabinets are precision-cut with lasers, formed, welded, steam-cleaned and coated.
NATURALLY LIGHT THE WAY
Here is a new way to harvest the overhead light already in your building. Galvanized shelves reflect 100% more light from within your Plus cabinet giving you a crystal-clear view of the front and back of your shelves.

STANDARD COLOR OPTIONS
Strong Hold Plus line comes standard in Black or choose to upgrade for free with one of our 6 other color options and it won't increase the 5-day lead time. Color will be applied to both the inside and outside of your cabinet using a wet spray and baked on enamel for a smooth durable finish.

Black (RAL 9004), Red (RAL 3001), Brown (RAL 8008), White (RAL 9010), Gray (RAL 7035), Beige (RAL 1001) and Blue (RAL 5010)
The Strong Hold Plus industrial cabinet color upgrade program lends itself to more than simple aesthetics. Visual management is becoming an increasingly popular methodology to organize industrial spaces while increasing process efficiencies. Coloring cabinets in different colors based on function allows users to easily access where parts or tools are stores and eliminates the need to waste time searching through identical cabinets minutes at a time. The gains may seem inconsequential, but in fact the contrary is true.
12 GAUGE STEEL IS SIMPLY STRONGER

The chart below shows the difference in thickness between Strong Hold's 12 gauge body and lighter gauge steel.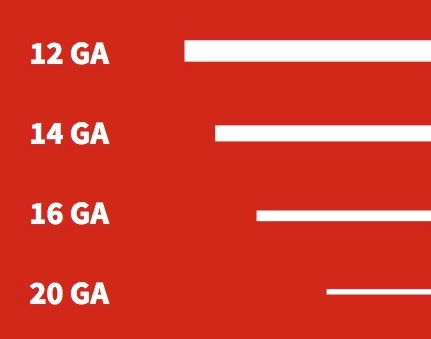 AMERICAN MADE
We take pride in creating quality, heavy-duty products. Every product built by Strong Hold is proudly made in the USA.
99-YEAR LIMITED WARRANTY
It's simple. Purchase a Strong Hold Plus™ cabinet and it comes with a 99-year limited warranty. Should your cabinet ever fail due to a defect from materials or original construction, Strong Hold will repair or replace your product, free of charge.
Keep track of tools, supplies, and inventory with Strong Hold Plus. Strong Hold Plus takes all of the guesswork out of configuring the right storage solution.
Watch Product Video
♦ SHIPS IN 5-DAYS ♦ Size: 60" wide x 24" deep x 72" high, Overall all height: 78" ♦ 8 shelves ♦ 825-pound capacity per shelf.
There are no related accessories for this product.
Want to be sure you're paying the lowest price?
We guarantee it.
We are making everything possible to provide you the best products on the lowest prices possible. Due to the higher number of products in our store we think that is possible some of the prices on our products to not be accurate.
If you find one of our products with lower price than ours, please use this form. We will compare the prices and will offer you the product on the same price!
Here's how it works:
1. Found a cheaper price?
2. Ask us for a price match - Just fill out the form and we'll check the details.
Please fill in the form below:
*
Required fields