Rousseau Modular Drawer Shelving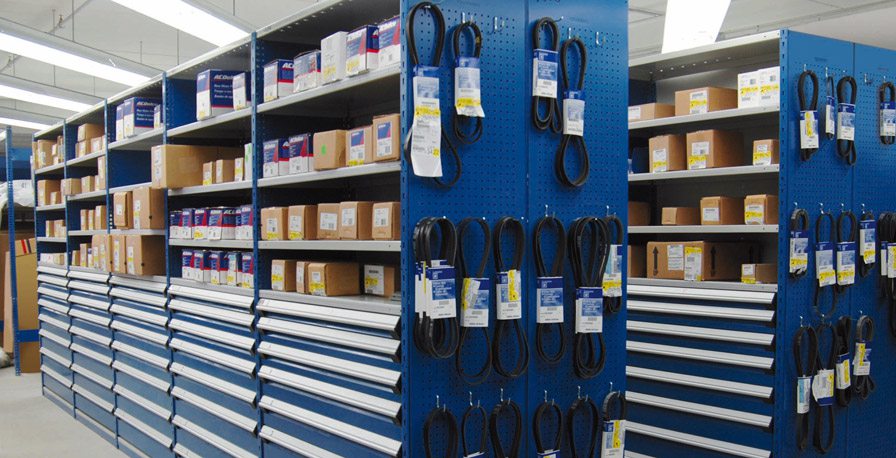 Rousseau shelving with modular drawers (400 lb capacity per drawer), can eliminate problems such as poorly lit shelves, difficulty accessing material and backaches caused by inadequate storage. Let us help you restructure your work space. Available in widths of 36", 42" and 48", depths of 18" and 24" and compatible with all the Spider® shelving heights. Say goodbye to poorly lit shelves, backaches and difficulty accessing materials caused by inadequate storage! Let us help you redesign your space. As storage specialists, we recommend adding Rousseau drawers to your shelving units to maximize their potential. You will gain a hybrid and versatile system that has proved its effectiveness for over 30 years. With their sturdy construction and distinctive design, Rousseau drawers add value to your existing equipment. Rousseau's modular drawers can be installed in over 35 brands of shelving on the market, so you can even keep your existing set-up. What's more, your new storage system can scale up or down in line with the needs of your business. A simple and economic solution; just imagine the possibilities!
Design your Modular Drawer Shelving.
Easy to Configure!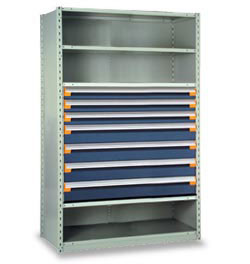 Get Started
Rousseau Shelving with Modular Drawers - 400 lb capacity per drawer


Rousseau Metal
Modular Drawer Shelving


36" wide x 18" deep




Rousseau Metal
Modular Drawer Shelving


36" wide x 24" deep




Rousseau Metal
Modular Drawer Shelving


42" wide x 18" deep






Rousseau Metal




Modular Drawer Shelving




42" wide x 24" deep






Rousseau Metal




Modular Drawer Shelving




48" wide x 18" deep






Rousseau Metal




Modular Drawer Shelving




48" wide x 24" deep