Bishamon BS-55A Hand Pallet Trucks
MFG's Part Number: BS-55A
List Price: $971.95

Our Price:

$676.33

You Save: $295.62 (30.42 %)

Larger Quantities: Use Quote Form

Availability:

Usually Ships in 2-5 Days
Bishamon BS-55A Hand Pallet Trucks
Bishamon BS-55A Hand Pallet Trucks are easy to use and exceptionally durable. These premium pallet trucks have many features not found on competitive models and provide unsurpassed roll ability. These pallet trucks are designed and manufactured to easily move palletized loads. By utilizing quality components and manufacturing techniques, Bishamon's BS Series pallet trucks can be expected to outlast other products which promise comparable quality. Bishamon's pallet jacks are completely rebuildable and offer many extra years of valued service.

♦ 

Capacity: 5,500 pounds.


♦ 

Overall Fork Dimensions: 48.0" long x 27.0" wide.


♦ 

Lowered Height: 2.9", Raised Height 7.8".


♦ 

Approximate Shipping Weight: 224 Pounds.
Standard Features
Ergonomic three position hand lever controls lift, lower and neutral functions with the handle in any position. Handle swivels through 210 degrees. Steering head and hydraulic assembly use quality, low-friction thrust bearings. High quality polyurethane wheels and load rollers provide superior rollability and durability. Premium quality ball bearings in all wheels and load rollers. Rugged construction, with high strength steel and continuous welds. One piece formed forks add strength and durability. Additional fork reinforcement plate provides extra strength to keep forks parallel. Durable formed steel entry slide guides truck into pallets and diverts debris. Solid steel, non-adjustable push rods increase durability.

Exceptional features generate the following advantages:
Blue Label (BS Series) Advantages
Easy operation and full control by operator at all times
Exceptional maneuverability in tight quarters
Greater flexibility of operation
Products can take the hard use of a rough industrial environment
Easier steering and smooth operation
Years of trouble-free use
Ease of maintenance
Fully rebuildable

Blue Label™ Series features and advantages translate into:
More efficient operations
Increased versatility
Ease of use
Product longevity
Eliminates downtime
Easy maintenance
Less worker fatigue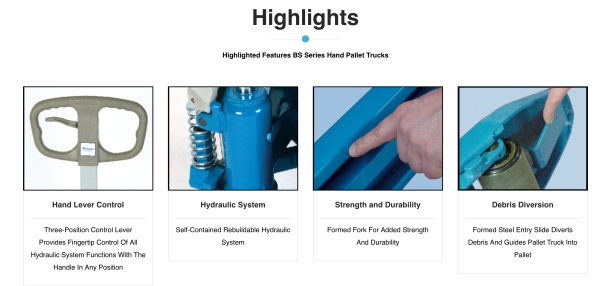 ♦ Capacity: 5,500 pounds. ♦ Overall Fork Dimensions: 48.0" long x 27.0" wide. ♦ Lowered Height: 2.9", Raised Height 7.8". ♦ Approximate Shipping Weight: 224 Pounds.
There are no related accessories for this product.
There is no related video for this product.
Want to be sure you're paying the lowest price?
We guarantee it.
We are making everything possible to provide you the best products on the lowest prices possible. Due to the higher number of products in our store we think that is possible some of the prices on our products to not be accurate.
If you find one of our products with lower price than ours, please use this form. We will compare the prices and will offer you the product on the same price!
Here's how it works:
1. Found a cheaper price?
2. Ask us for a price match - Just fill out the form and we'll check the details.
Please fill in the form below:
*
Required fields